Sires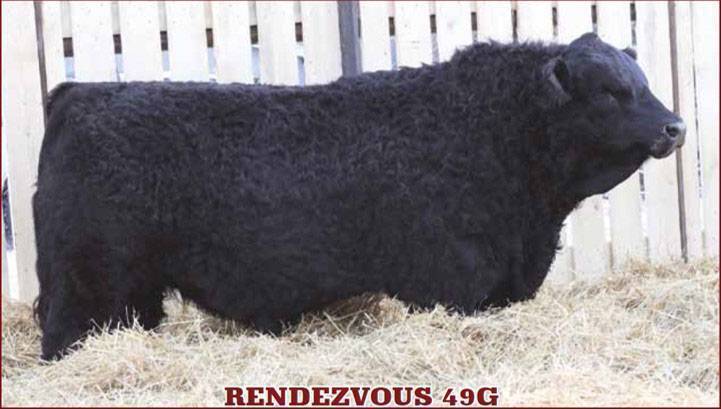 RENDEZVOUS 49G
Reg#: 1294027 | Tattoo: (AIA 49G) | BD: 24 January 2019
PEDIGREE
LFE THE DARK NIGHT 350U
SIRE
LFE BS LEWIS 3173C
LFE BS KATARINA 2013A
NUG WESTERN STAR 32B
DAM
RENDEZVOUS MS STAR 49E
RENDEZVOUS MS CAESAR 589Y
Rendezvous 49G is a deep made long spined meat machine which we purchased in 2020 as a genetic outcross on our red cows. He is an athletic bull and has excellent muscle expression stretching from his tidy front third right through to his big rear quarter. He moves out with ease on nice black feet , and we look forward to his progeny at side in 2021.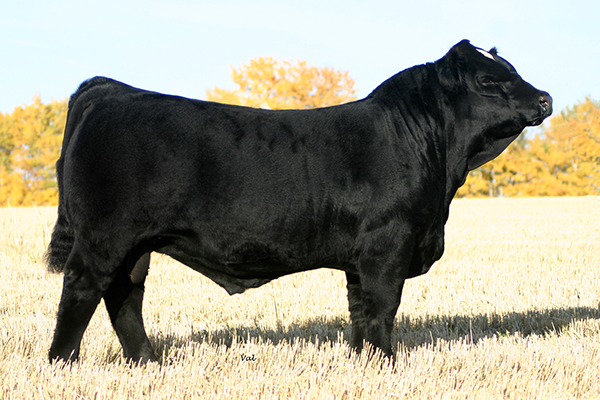 ROCKSTAR CAPONE 5C
Reg#: 1146649 | Tattoo: (DJT 5C) | BD: 27 February 2015
PEDIGREE
MR NLC UPGRADE U8676
SIRE
MR TR HAMMER 308A ET
SVF/HS EXPECTING A DREAM
WHEATLAND STOUT 930W
DAM
RF INTENSE 359A
RF ELVIRA 24W
In the fall of 2015 we took our program to the next level, through the purchase of Rockstar Capone 5C, the $25,000 high selling bull at Canadian Western Agribition. Capone has become a true herd Patriarch and has bettered our foundation female program. He is massively structured, extremely long spined, and muscled deep in his quarters, all while moving softly with great flexibility in his rib. Canadian and USA qualified semen is available for purchase. Please contact us.
MRL WHISKEY 54D
Reg#: 1190967 | Tattoo: (MRL 54D) | BD: 16 January 2016
PEDIGREE
TNT BOOTLEGGER Z268
SIRE
MRL RED WHISKEY 101B
MRL MISS 677Y
 TNT POWER SURGE T404
DAM
MRL MISS 762Y
 HCCL 13K
"Whiskey" was a purchase in the 2017 McMillan bull sale to boost our own red Simmental division in pursuit of moderate made cattle that stride out on excellent feet and legs. His length of spine, uniform muscling and moderate frame, are packaged in a cohesive and complete way. McMillan's considered this bull as a sale feature and his progeny have certainly been that for us. Whiskey's calves are uniform, deep and soggy made cattle that are very hardy.
MRL DARE DEVIL 243D
Reg#: 1227257 | Tattoo: (MRL 243D) | BD: 21 April 2016
PEDIGREE
MRL EL TIGRE 52Z
SIRE
MRL PRETTY RECKLESS 68B
 MRL MISS 310X 
 KOP CROSBY 137W
DAM
MRL MISS 2388Z
 MRL MISS 782W
"Dare Devil" Comes to us again from the MRL Ranching program. His length of spine, huge quarter, and ample hip caught our eye, and use was favorable as an outcross herdbull to supplement our cow bull battery. His genetic's continue developing the "big hipped" progeny already at work at FTF with a fancy money stripe now and then.
LFE RS LEWIS 3166E
Reg#: 1234328 | Tattoo: (LFE 3166E) | BD: 26 May 2017
PEDIGREE
MRL INTEGRITY 76Y
SIRE
KWA BIG TIME 86A
DOUBLE BAR D PIXIE 75T
LFE RANCHER 396U
DAM
LFE BISS DREAMLADY 2201Z
BISS BILLY JO 33P
LFE 3166E is a red outcross bull to our herd which we added for the 2019 breeding season. He is ultra big middled with a big hip and tidy front third. He produces moderate but fancy calves that are easy doing.
DEEG CD MR 81F
Reg#: 1260591 | Tattoo: (RDD 81F) | BD: 13 January 2018
PEDIGREE
LFE GOTHAM 819Y
SIRE
LFE MCDAVID 413C
LFE HEAVEN SENT 30X
HART ALL IN W382
DAM
SPRINGCREEK B GOLD 102Y
SPRINGCREEK BLK SKY 100T
DEEG CD MR 81F is the naturally born and raised progeny resulting from a mating of LFE McDavid and the $50,000 donor female owned by Deeg's and Bohrson Marketing. He is a long made smooth shouldered black bull, with excellent hair. The royal breeding in this bull is multi-generational and first calves on the ground in 2020 are fancy, functional, and extremely vigorous.
RENDEZVOUS 244F
Reg#: 1257547 | Tattoo: (AIA 244F) | BD: 14 January 2018
PEDIGREE
IPU RED WESTERN 49X
SIRE
MAF RED RAMBO 131B
 IPU MS. RED FORCE 157Z
 ZSL MR RED EXPRESS 106Z
DAM
RENDEZVOUS MS EXPRESS 244D
RENDEZVOUS MS HUMMER 626Y
Rendezvous 244F was purchased in 2019 for use in our heifer pen. Finding a bona-fide bull for use in a pen of heifers is a real challenge, especially if you want to sleep easy at night. 244F has all the right breeding, and statistics to say he can cover heifers easily, and after the 2020 calving season, we can safely say he is a heifer bull. All calves averaged 75lbs BW and were so vigorous, most of them beat their Momma's getting up off the straw!